We pursue making products with use of plastic materials
Characteristics:excellent transparency and high flexibility of color.
Achieving the beautiful cut surface with out
polishing has been extended to engineering plastic and super engineering plastics.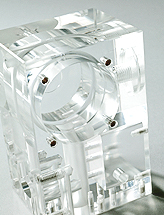 For cutting process, we basically use the same cutting processing equipment such as lathe,milling machine and machining center.
Since plastic materials vary its characteristics depend on its types, it is very important to have dep knowledge on materials.